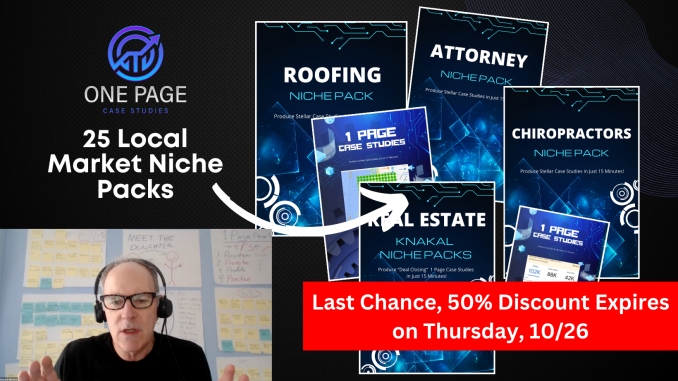 Time is running out! In less than 24 hours, the price of our transformative One Page Case Studies Mastermind Program will double. Your chance to secure a lifetime of SEO success for just $497 ends on October 26, 2023, at 11:59 p.m.
Why Now is the Time to Act
The digital realm is ever-changing, and maintaining a lead in the SEO sphere requires a blend of innovative approaches, actionable insights, and a network of like-minded individuals to share the journey. That's exactly what the One Page Case Studies Mastermind Program offers.
Here's the crucial part: the investment for this reservoir of SEO knowledge rises from $497 to $997 on October 26. This is your opportunity to step into a wellspring of wisdom at half the price!
Step into a World of Opportunities
The Mastermind program is not just a course; it's a launchpad for your SEO and digital marketing skills to reach levels perhaps only imagined. With a meticulously crafted curriculum by Ed Winslow and Caroline Vega, you're not only learning from seasoned experts, but you're also gaining access to tested strategies proven in the real market.
What Makes This Program a Must-Join: Inside the Treasure Trove
This Mastermind Program offers more than just SEO coaching—it gives you a complete toolkit to dominate your market. Here's why over 100 SEO experts and agencies have already jumped onboard:
Comprehensive Modules: Learn the art and science of landing six-figure SEO marketing clients with our one-page case study methodology.
Client Getting Portal: We regularly update our step-by-step videos, keeping you ahead with the highest-converting SEO, social, and offline sales strategies.
12 Weeks of Live Coaching: Experience firsthand how we rank case studies in as little as 3 days—no backlinks or technical SEO needed.
A.I. Generated Case Studies: Leverage innovative AI technology to craft compelling content that ranks and converts.
Plug-and-Play Templates: Get instant access to our 1-page case study proposal template and 25 niche pack templates, speeding up your case study creation process.
Master Any Local Niche: Our comprehensive training sets you up to dominate any local niche you target.
Live Community and Coaching: Benefit from live group coaching sessions with Ed and Caroline, sharing a space with professionals who are as eager to grow as you are.
⏰ Time-Sensitive Opportunity: Due to the overwhelming value and high demand, our prices will DOUBLE on October 26. Secure your mastermind program spot now to lock in 50% savings.
Stories of Transformation
The success narratives stemming from the very strategies we share are loud and clear. Take Joe DeLandro, for example, who turned his flooring business into a powerhouse using our methods. And Joe is not alone; we reveal even more success stories like his in our workshops. The journey from skepticism to a firm belief in what SEO can accomplish for a business is a testament we proudly share.
The Psychological Advantage
We built our unique methodology on the principles of human psychology. We help you tap into these principles to take over local markets. Our focus is on conversions, not just traffic. Traffic without conversions is useless. This is why your SEO clients will continue to work with you.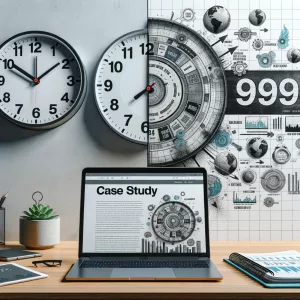 Time is of the Essence…
Time is moving, and so is the 50% discount on our Mastermind Program. As October 26 draws near, the chance to save $500 is gradually slipping away. But your SEO aspirations don't have to slip with it.
Boost your SEO expertise, foster enduring professional relationships, and let the success tales unfold. The One Page Case Studies Mastermind Program is more than a course; it's your portal to a domain where SEO aspirations transform into tangible success. Time is ticking, and the SEO realm is ready for its next success story. Will it be yours?
Get started here:  https://1pagecasestudies.com/checkout—beta