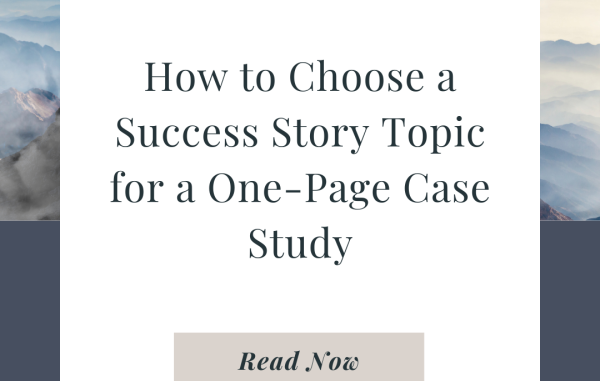 There are two main types of One Page Case Studies™ we focus on:
1. Success Stories – Great for showing proof (Today's Topic)
2. Market Insights – Great for showing your expertise
Choosing a Success Story Case Study
1. Know Your Customer – The purpose of One Page Case Studies™ aims to show proof to potential clients in your market. Without proof, there is no trust. Without trust, people will not buy (or if they do, it's at the lowest price). As a result, the resistance to purchasing is always doubt (We call them Doubters), which is a feeling of uncertainty or lack of conviction (Oxford Dictionary). The Doubter sees 5,000 or more ads daily—no wonder they are full of doubt and skepticism.
2. The Doubter Scans, They Don't Read – The Doubter has little time. They scan. Bullet Points capture their attention. As a result, the best strategy for choosing a topic starts by writing down key points for your One Page Case Study
3. Choosing Your Topic – Think about what you did today. Let's say you are a photographer and took wedding photos. The wedding can be a Case Study. The Doubter doesn't just want proof; they want to know the process. As a result, you could break down the wedding into numerous mini-case studies.

Here are 24 Different Success Story Topics for One Page Case Studies™
• The Bride and Groom Getting Ready
• The Wedding Dress and Shoes
• The Groom's Suit and Accessories
• The Wedding Venue and Decorations
• The Wedding Ceremony (processional, vows, ring exchange, kiss)
• The Signing of the Marriage Certificate
• The Newlyweds' Exit (confetti, rice, bubbles, sparklers)
• Family Portraits (immediate family, extended family)
• Bridal Party Portraits
• The Bride and Groom Portraits
• The Reception Venue and Decorations
• The Wedding Cake and Desserts
• The Wedding Speeches and Toasts
• The First Dance
• The Father-Daughter Dance
• The Mother-Son Dance
• The Bouquet Toss
• The Garter Toss
• The Guests Dancing and Celebrating
• The Wedding Favors
• The Wedding Rings
• The Wedding Invitation and Stationery
• Details and Close-Ups (centerpieces, favors, place settings, etc.)
• Candid Moments and Emotions (laughter, tears, hugs, etc.)
Ten Tips for One-Page Case Study Success Story Topics
Problem and Challenge – Focus on a specific issue or challenge successfully overcome. The success story topics should tell how a company or individual faced a challenge and found a solution.
Choose a Niche – Choose a case study that aligns with your business goals or industry. The case study should be relevant to your target audience and demonstrate your expertise.
Make It Unique – Consider the uniqueness and complexity of the case study. A complex problem with a unique solution can create a more interesting and compelling story.
Show Measurable Results – Look for success stories that demonstrate measurable results. This helps show the solution's impact and can be more persuasive to potential clients.
Be Relevant – Choose a case study that is recent and relevant. Older case studies may not be as impactful if they are no longer relevant to current market trends or standards.
Know Your Market – Consider the target audience for the case study and tailor it to the interests and needs of the intended readers.
The Page Structure and Format – Think about the format and structure of the case study. One-page case studies should have a clear and concise structure that is easy to follow and understand.
Show Empathy for The Doubter – Look for stories with human interest. Personal stories that involve real people and emotions can be more engaging and memorable.
Show the End Result – Choose case studies that highlight the value of your products or services. The case study should show how your company helped to solve a problem and added value for the customer.
Will The Doubter Identify with the Process – Consider the potential impact of the case study. Will it resonate with your target audience and help to attract new customers or clients?
Summary – Choosing Success Story Topics for One Page Case Studies™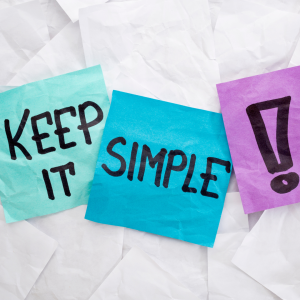 Keep it simple. Most One Page Case Studies™ you add to your website must only be 300 – 1000 words.
For example, this post is 785 words and took me about 30 minutes to write.
Put yourself in the shoes of The Doubter, and don't assume they understand your business. They don't.
Show Proof. Use Bullet Points and break down your article into sub-topics.
Lastly, your One Page Case Studies™ should take no longer to write than 30 minutes each.
Follow a format and repeat it over and over. Before long, you'll have assembled a library of amazing content.
Each One Page Case Study is your 24/7 sales force.