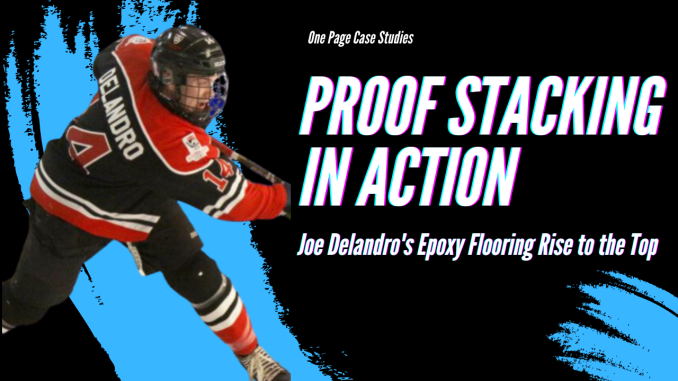 In the dynamic landscapes of New Jersey and New York City, Joe Delandro's transformation stands out as a beacon of inspiration. A humble epoxy contractor evolved into a prominent figure in Google local searches for "epoxy flooring".
His story, though deeply personal, highlights the strength of strategic digital planning, especially with the expertise of One Page Case Studies.
Embarking on a Digital Adventure
No one can match the prowess of Joe Delandro with epoxy, but the digital realm was unfamiliar territory. Recognizing the potential, One Page Case Studies provided the roadmap. We meticulously crafted a digital blueprint representing Joe's expertise and leading to the birth of a website that became an immediate favorite for communities across New Jersey and NYC.
The Imperative of a Digital Strategy in Today's World
The world has rapidly shifted its focus to the digital realm. From shopping to seeking services, the first point of contact is often a search engine. In this context, a robust digital strategy is no longer an option but a necessity. This underlines the importance of Joe's journey and the timely intervention of One Page Case Studies. By harnessing the power of the internet, even localized businesses can achieve expansive reach, casting wider nets and reeling in bigger opportunities.
🎯 Joe's Achievements, Amplified by One-Page Case Studies:
Becoming a Local Digital Beacon: One Page Case Studies transformed Joe's online presence. His website, initially just a business card, evolved into a thriving hub of engagement, filled with rich content, stellar SEO, and successful case studies to ignite visitors' curiosity.
Crafting a Multi-dimensional Online Presence: In the expansive digital realm, Joe's brand spread its wings. Under the guidance of One Page Case Studies, Joe embraced various online avenues, from specialized directories to influential press releases, amplifying his brand and leaving an indelible digital footprint.
Building Trust with Testimonials: The real-life experiences shared by clients through testimonials further solidified Joe's standing in the market.
Understanding Proof Stacking
In the digital age, where every brand vies for attention, it's not enough to merely have an online presence. What sets businesses apart is the evidence of their claims, the tangible proof of their capabilities. This is where the concept of 'proof stacking' comes into play. It's the art and strategy of layering various elements of validation – testimonials, top rankings, portfolio displays, and more, to create a cumulative, compelling narrative. And Joe's story stands as a testament to the power of this strategy.
Proof Stacking with Top Rankings: Demonstrating the power of strategic digital maneuvering, Joe's website clinched the enviable number one and two spots in Google searches relevant to his service. This wasn't just a win for visibility, but a testament to the efficacy of the strategies employed.
Securing Big Contracts through Demonstrable Excellence: The success stories enabled Delandro to show proof and demonstrate his ability to handle large-scale projects. By writing about significant projects, including marijuana grow facilities and marquee clients like the Hard Rock Café in NYC, potential clients could witness the scale and quality of work Joe's team can perform.
Joe Delandro Evolution in the Digital Space
Beneath the highlights was a story of consistent effort and a belief in digital possibilities:
From Whispers to Echoes: Once content with limited inquiries, Joe's metrics transformed. He receives frequent phone calls from interested prospects because of his growing digital popularity and footprint.
Broadening Horizons: From initially installing garage floor epoxy, Joe expanded his portfolio. With a robust online strategy, he undertook larger projects, cementing his reputation as a versatile craftsman. His projects include work for the Coast Guard, large marijuana grow facilities, and Hard Rock Café in NYC.
Assembling a Dream Team: Starting as a one-man army, Joe's passion attracted talent. He nurtured a team of dedicated professionals, all committed to delivering unparalleled quality. He now has a team of 8 working on local residential and commercial projects.
Networking and Collaborations: Joe began collaborating with local businesses, integrating services, and offering holistic solutions to clients.

The One Page Case Studies Advantage
Amidst digital competitors, Joe found his unique edge: One Page Case Studies. While the team sculpted these digital stories, Joe ingeniously translated them offline. By presenting printed testimonials and tangible samples, he transformed skeptical prospects into a devoted clientele.
Joe's Story: A Blend of Digital Mastery and Tangible Trust
In today's digital-dominant era, Joe achieved a rare feat: harmonizing online narratives with offline realities and building trust on both fronts.
Witness Joe's Digital Renaissance
We've summarized some of the key elements of Joe's journey in this post, but now let's hear it from him directly. Explore his transformative business journey in our video interview below. Traverse his digital milestones, and perhaps, find a beacon for your own digital quest.
Exploring the Genius Behind One Page Case Studies
Fascinated by the Joe Delandro success story? Keen to harness the power of One Page Case Studies? Dive into our free mini workshop on August 22nd, unveiling strategies that can elevate your business narrative. Reserve your spot in the free mini workshop here: https://1pagecasestudies.com/mw-real-estate