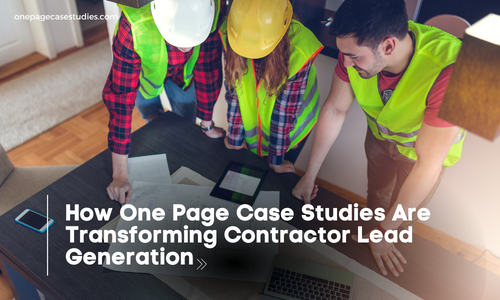 Every contractor knows the struggle of generating consistent, high-quality leads. In an ever-evolving digital landscape, the old methods can often fall short. However, there's a powerful solution that is transforming how contractors acquire leads – One Page Case Studies.
One Page Case Studies are a powerful marketing tool that showcases your success in helping a client overcome a particular challenge. Think of it as a compelling story where your business plays the hero role, using its expertise and services to solve a client's problem. In just one page, potential clients get to see firsthand the value you offer, the tangible results you can deliver, and the compelling reasons why they should choose you over competitors.
This powerful narrative can be the best lead generation strategy for contractors, effectively encapsulating your expertise and services, making you the go-to choice over your competitors.
The Potential of One Page Case Studies
One Page Case Studies are more than just a marketing tool; they're a real game-changer for contractors. These concise, yet engaging narratives act as an interactive portfolio of your accomplishments. They serve to demonstrate how you've helped other clients succeed, thereby establishing an instant connection and trust with potential clients.
In these case studies, success stories of previous clients are neatly encapsulated, making your expertise and services easy to comprehend. They serve as a mirror where potential clients can see their own challenges being resolved. This way, they begin to appreciate the unique solutions you bring to the table, ultimately influencing their decision-making process.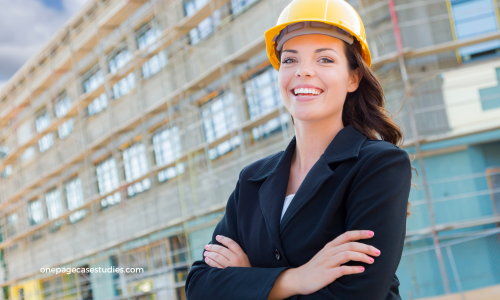 Success Stories from One Page Case Studies
Our contractor clients aren't just surviving in their markets; they're dominating them all while securing the best contractor leads in their industry. We've witnessed remarkable growth, taking several businesses from startup to securing multi-million dollars of contracts per year.
One remarkable success story is that of a young, 26-year-old epoxy flooring contractor in New Jersey. Through the application of our One Page Case Study technique and intelligent online positioning, he has been able to secure large, high-profile projects, including flooring for the Hard Rock Cafe in NYC and an Atlantic City Coast Guard Air Station. These are large-scale, prestigious projects that would be extremely challenging to secure without the internet and our unique approach to ranking with One Page Case Studies.
The Advantage of Lead Generation for Contractors Using One Page Case Studies
The transformative potential of this strategy for your business is staggering. If you are seeking the best lead generation for contractors, our technique and business model can give you an unparalleled edge.
The ability to compellingly present your success to potential clients can drastically influence their perception of your services. But the deeper benefits lie in how it refines your business narrative, instilling a renewed confidence in your service delivery, and helping you better connect with your clients.
Beyond just a marketing tool, mastering One Page Case Studies changes your business's narrative. It compels you to constantly seek and deliver top-tier services that you can proudly showcase. It keeps you on your toes, pushing you towards continuous growth and improvement, aligning your business with success.
Invitation to the Mastermind Group
Joining our mastermind group is more than just becoming part of a learning community, it's embracing a culture of consistent success and high-value service delivery. We don't just teach you how to write case studies; we equip you with the tools and knowledge to create your own success stories, making you a leader in lead generation for contractors.
Our mastermind community includes diverse business owners, including contractors and professionals from other sectors. It's a space for mutual growth and learning, where success isn't just an individual pursuit, but a collective goal.
Envision the future of your business, powered by a lead generation strategy that consistently delivers results, that pulls in the best contractor leads. It's a future within your reach. Start this transformative journey today. Join our mastermind group, learn the power of One Page Case Studies, and unlock your business's full potential.