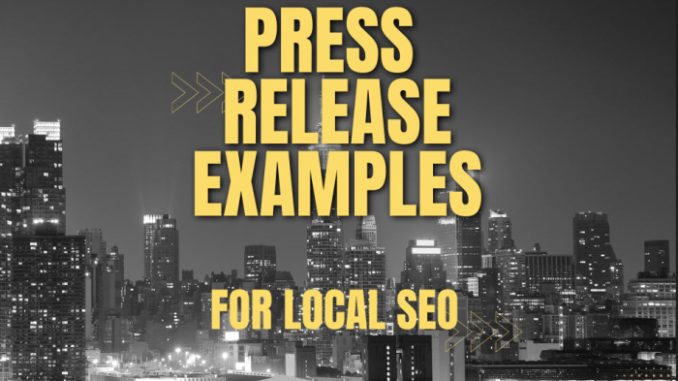 As a local business, having a solid online presence is essential to attract new customers and growing your business. One effective way to do this is with press releases to promote your case studies.
A niche-specific press release will ensure you reach a broad audience, boost your credibility, and improve your search engine rankings.
Below you will find three press release examples for local SEO with insights to help you promote your case studies.
Press Release Template: 7 Elements to Include for Great Results
Your Press Release template should include the following 7 elements:
Write a strong headline: Your headline should be attention-grabbing and include your main keywords and geographic location.
Start with a strong lead: Your lead should summarize the key benefit of your case study and entice readers to keep reading.
Include quotes: Add credibility to your case study by using quotes from you, your customers, or experts.
Use visuals: Make your press release more engaging and shareable with images or videos. Personal images are highly effective to create a relationship with your market.
Optimize for local SEO: Improve your local search rankings by using your location and relevant keywords in your press release. Your headline is an essential part of your content.
Share on social media: Reach a wider audience by sharing your press release on your social media channels.
Pitch to local media outlets: Increase your visibility and gain more credibility by pitching your content to local media outlets.
Press Release Example for a Commercial Real Estate Broker in NYC | Cogent Realty Advisors
The images below show how Cogent Realty Advisors achieved multiple results from a single Press Release on Yahoo. Yahoo News is one of the most highly regarded media platforms. Visibility on Yahoo News has a strong impact on Cogent's Google ranking results in addition to broad distribution on Google News. The benefit is companies contacting Mitch Waldman looking for office space near Penn Station.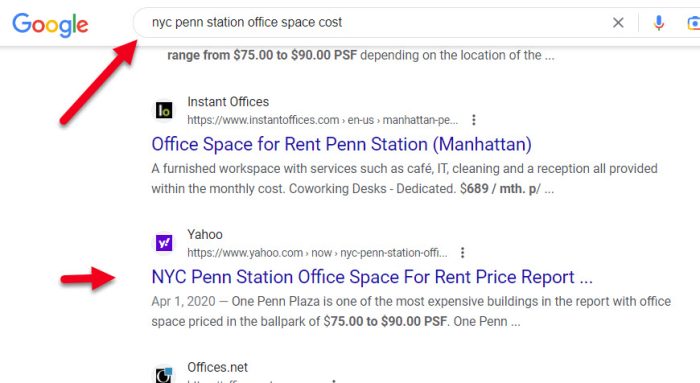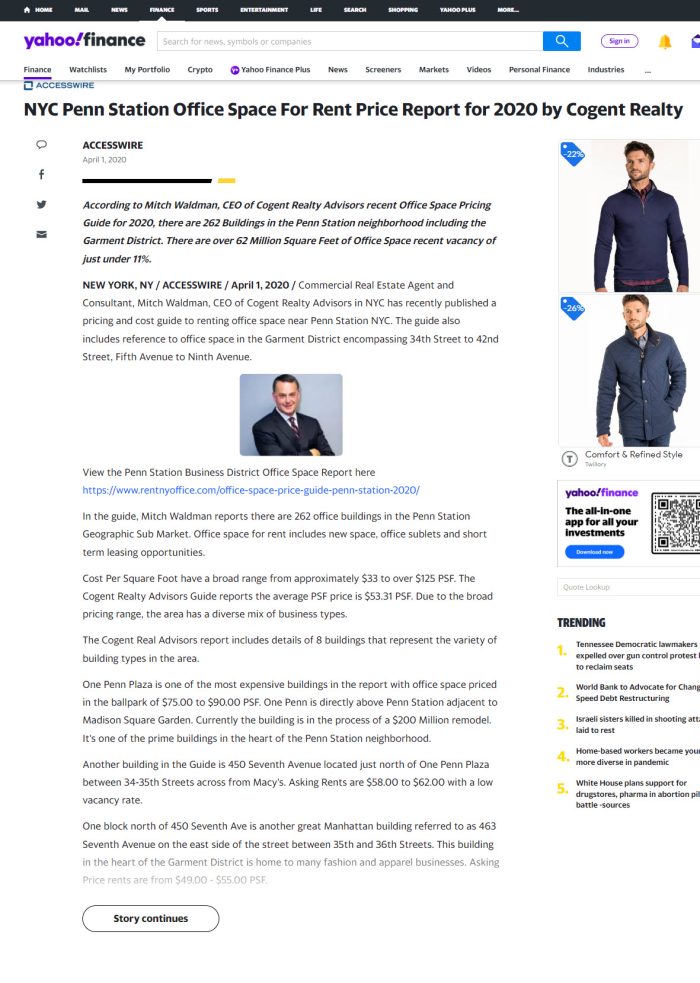 The press release template followed by Cogent Real Advisors includes showcasing data authority, trustworthiness, and newsworthy information. The format started with a compelling headline, including the key points in the Penn Station NYC sub-market to make for a newsworthy story.
Press Release Example Format with a Unique Angle
Create a Unique Angle: The angle we targeted for Cogent Realty Advisors is "cost" for "Office space" near "Penn Station" and "NYC." We also referenced in the press release that Cogent Realty Advisors produced a "free guide" on their website. The word "Guide" was used to position the information as a reliable, valuable tool for a business in the prime NYC office space market.
Target Niche Keyword: Each news article we create targets a niche keyword. "Cost" is the central theme. Typically the word "Cost" is an overlooked, high-intent keyword. Google thinks highly of it, enough to continue featuring it on page 1 for three years.
Utilize Local SEO: The press release format utilized effective strategies for local SEO, such as including relevant keywords people search for including specific buildings, and location information.
Highlight Cost: Waldman's content highlights the "costs" of choosing a specific office space near Penn Station. Cost is one of the most searched words on the internet. Everyone wants to know, "How much does it cost?"
Positioning: The strategy was to position Cogent Realty Advisor as a "Trusted Expert." It showcased the results of a market insights case study demonstrating the market expertise of Cogent.
Include Quotes: The press release also included a quote from Cogent Realty Advisors owner,  Mitch Waldman. Using quotes is a copywriting tactic amplifying Waldman as a real estate authority, an expert, and a celebrity in his market. Including quotes from critical stakeholders or experts in a press release adds credibility, provides a human element, and offers additional perspectives. "It is a common and effective technique to engage the audience, personalize the story, and communicate the desired message."
With its strong local SEO and compelling content, this press release has continued to rank highly on Google and attract new customers to the office space provider for the past 3 years. Just imagine the dominant visibility on Google with a monthly Press Release strategy.
Press Release Example: Sample Features
News release promoting case study targeting office space cost near Penn Station NYC
Published on Yahoo (Premium, High-Authority News) and utilized effective strategies for local SEO
Highlighted costs of office space for eight buildings near Penn Station
Showcased results of a case study demonstrating cost savings for businesses
Included quotes from Mitch Waldman with a call-to-action for companies to consider the provider
Has ranked on Google Page 1 for three years, attracting new customers to the office space provider.
The Yahoo Press Release announcing current market rates serves as a funnel linking to a data-rich page with bullet points making for an easy-to-read page on the Cogent Realty Advisors website.
You can see from this Press Release example, the impact on local SEO results lasts for years, even in a highly competitive NYC real estate market.
Press Release Example for NYC Virtual Office and Co-Working Space
Below are examples of an NYC Virtual Office and Coworking space provider with a prime location on the 85th Floor of One World Trade Center.
The goal of this Press Release strategy is to target numerous niche services, cities, and virtual office/coworking/meeting room/mail forwarding packages offered at the World Trade Center.
Utilizing a strategy named "Press Release Stacking" implemented over an 18-month period had a ripple effect. It created much-needed brand recognition in a crowded, competitive market while producing the top 3 results in the coveted Google My Business (now called Google Business Profile).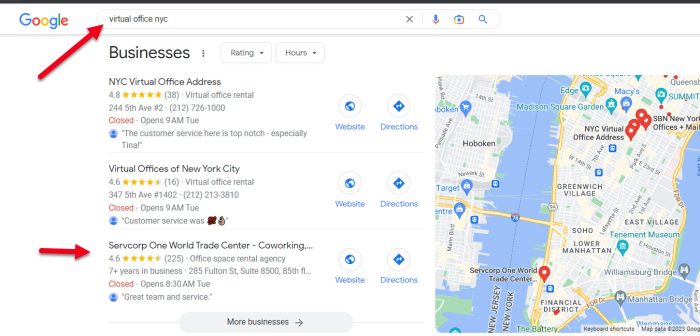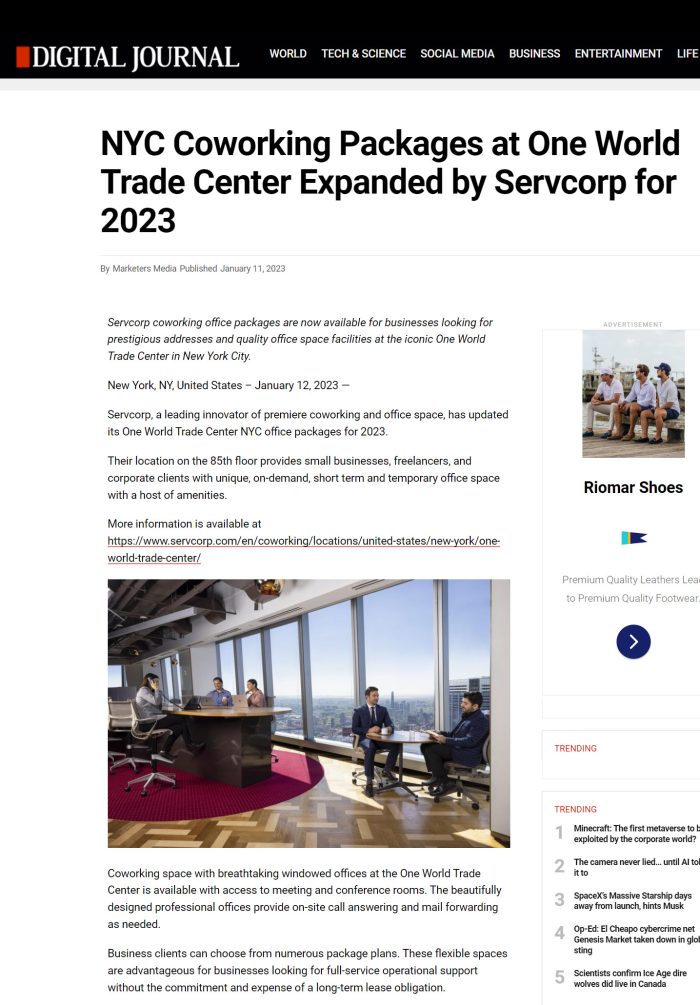 Press Release Example For Workers Compensation Insurance Agent
The Press Release example below targets a niche market for NY Workers Comp Insurance for Manufacturing companies.
*Note- Look below at the quality Google visibility for Enforce Coverage Group. This is a direct result of excellent information on the Enforce Coverage Group website promoted with a Press Release from Digital Journal. The Digital Journal Press Release was also picked up by Google News.
Pat Ryder and Pat Scanlon, owners of Enforce Coverage, benefit from Google E-A-T (Expertise, Authority, and Trust).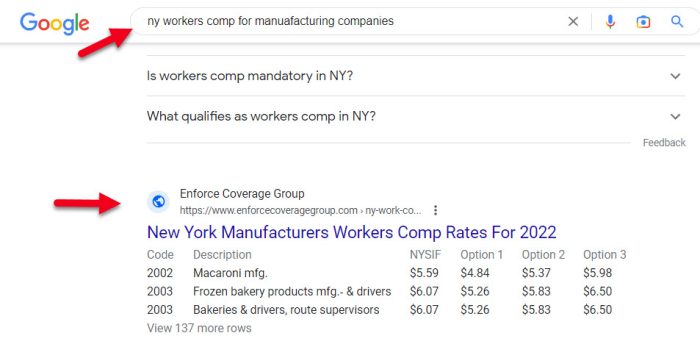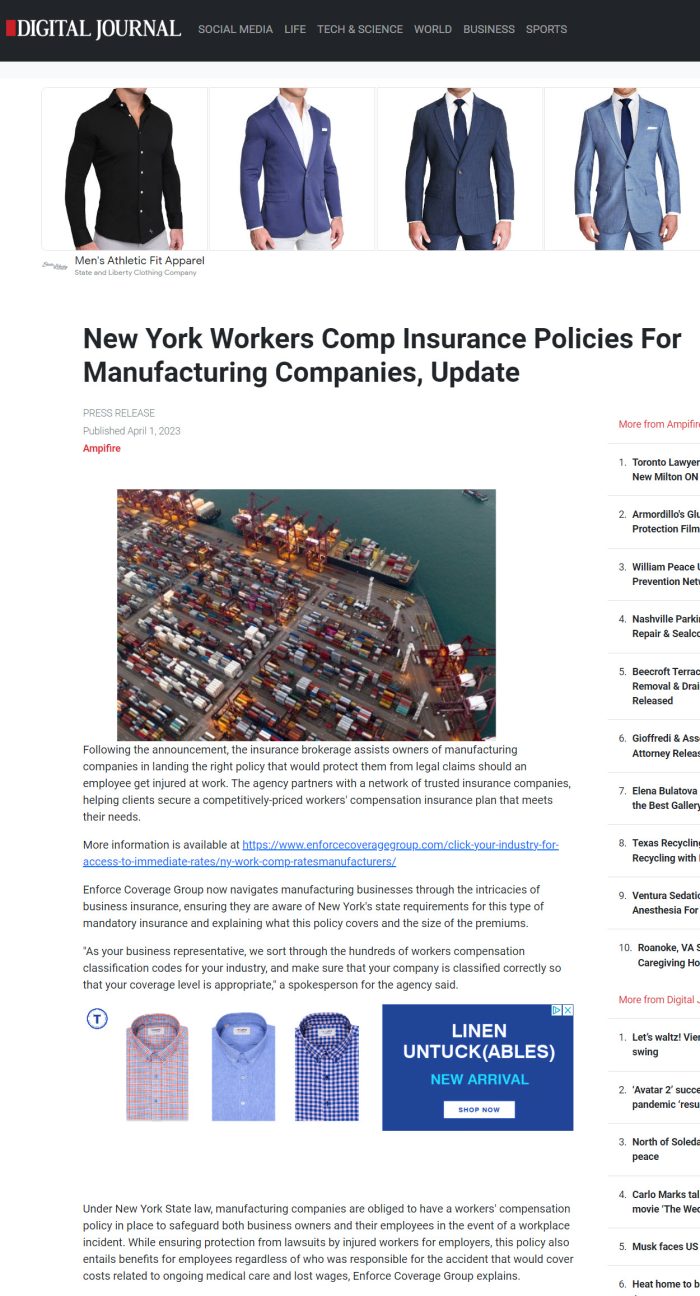 Press Release and Local SEO Strategies
Press Releases combined with local SEO promoting One Page Case Studies™ can effectively dominate local markets and convert doubters to buyers. This strategy capitalizes on Google's E-A-T (Expertise, Authoritativeness, and Trustworthiness) guidelines to boost online visibility and credibility. Key points include:
Local SEO optimization: Focusing on local search optimization helps businesses rank higher in location-specific searches, driving relevant traffic and attracting potential customers in the target area.
One Page Case Studies™: Showcasing real-life examples of success stories, customer testimonials, or problem-solving capabilities demonstrates a company's expertise and adds credibility to its services or products.
Regular Press Releases: Distributing press releases helps maintain a robust online presence, keeps the brand in the public eye, and increases the reach to potential customers.
High-Quality Content: Well-written and informative content aligns with Google's E-A-T guidelines, leading to better search rankings and increased organic traffic.
Building Authority: Promoting Case Studies and press releases establishes the business as an authority in its niche, generating trust among potential customers while converting doubters to buyers.
Ongoing Promotion: Continuously promoting case studies and press releases ensures that the business remains top of mind for potential customers and gains a competitive edge in the local market.
By consistently stacking one-page case studies and promoting them through press releases, businesses can effectively dominate their local markets and convert doubters to buyers, leveraging Google's E-A-T guidelines to their advantage.
About One Page Case Studies™ Business Model
Ed Winslow and Caroline Vega have developed an online and offline business system for local businesses and real estate companies with clients nationwide.
Their One Page Case Studies™ Mastermind and Course has members from around the Globe including Ireland, London, Capri Italy, Astonia, and throughout the United States.